Ngā mihi mahana kia koutou,
Huge thank you to you all who came and supported our Twilight Lamb, Calf and Pet Day last Friday. We had a lot of positive feedback about the event, but would love your thoughts on how to improve this day. If you have any ideas, please let us know through this quick survey. Our kids all took home their certificates from the indoor exhibits. Today was Gumboot Friday and we had plenty of tamariki put on their kamuputu (gumboots) to support this worthy cause pictured below. We appreciate your support and collected nearly $150 to donate to the cause.

Also today marks Isaiah's last day with us at Turitea School. Isaiah has been our Massey Teacher who has worked alongside Hannah, Meagan and all the ākonga (students) in Rimu for the last 8 weeks. We have appreciated his willingness to get involved with our kids and show off his basketball skills. Thanks for your contributions to our school and all the best with your own class next year. Earlier in the week, I felt very loved by our littlest learners in Rātā and Rimu who all drew pictures of me and wrote me beautiful messages for Tumeke Tumuaki Day on Wednesday.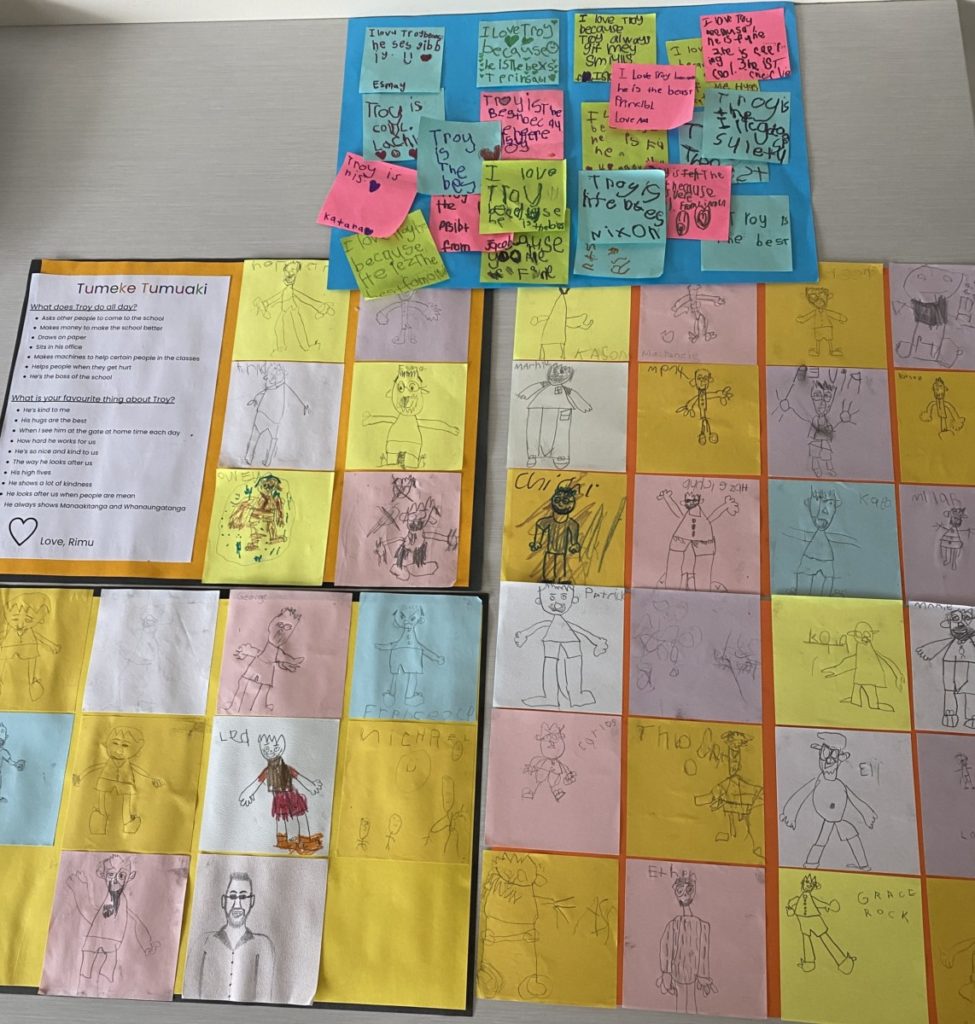 This is an initiative across NZ which recognises and celebrates the contribution that principals make to education. I already love being your principal at Turitea, but the cards made me feel very special. Whakawhetai kia koutou. (Thank you everyone) This afternoon, we had our second assembly of the term and Maikara, Hoani and Nate from Kahikatea had their chance to step up and demonstrate their leadership skills. Our values certificate recipients for this week were: 
Rimu: Grace – Manaakitanga and Kaia – Mātauranga
Rātā: Lachie – Mātauranga
Pōhutukawa: Andre – Mātauranga
Mataī: Mia – Manaakitanga
Tōtara: Milana – Manaakitanga
Kahikatea: Manawa – Whanaungatanga
Tumuaki: Marnie – Manaakitanga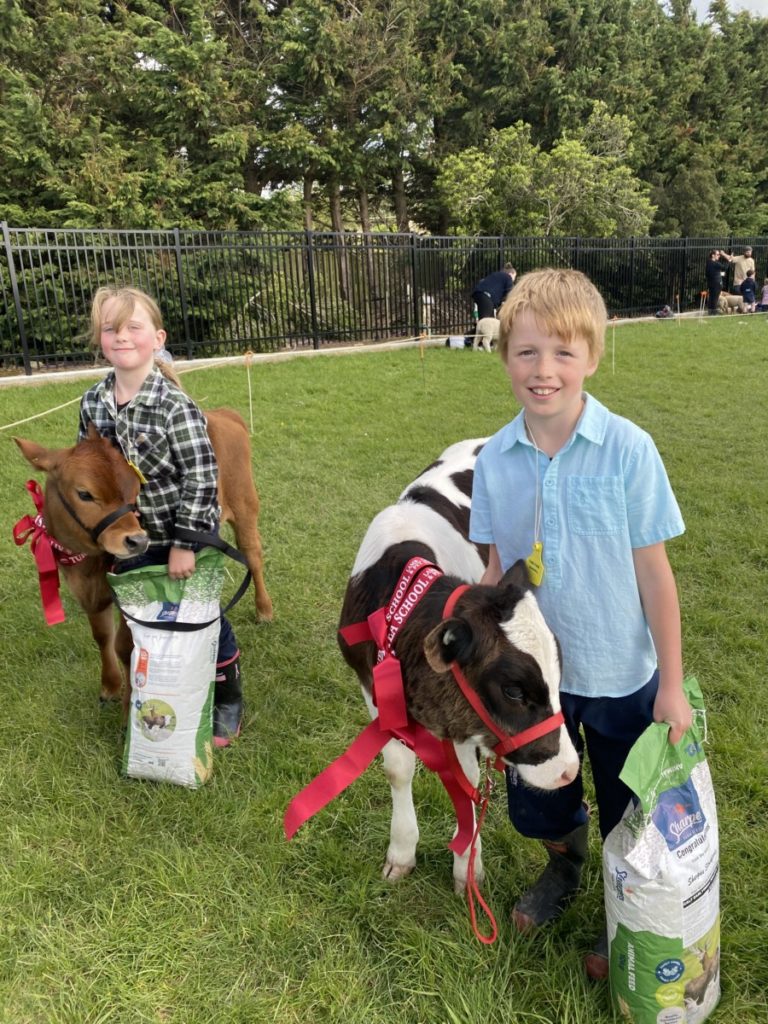 Lamb Calf and Pet Day Trophy Recipients:
Senior Lamb: Natalie with Midnight
Junior Lamb: Rory with Nibbles
Champion Lamb: Rory with Nibbles
Reserve Champion Lamb: Natalie with Midnight
Senior Calf: Blake with Tilly
Junior Calf: Alice with Brownie
Champion Calf: Blake with Tilly (pictured above)
Reserve Champion Calf: Alice with Brownie (pictured above)
Senior Pet: Harlow with Henry
Intermediate Pet: Amelia C with Baxter
Junior Pet: Evander with Toby
Champion Pet: Harlow with Henry
Reserve Champion Pet: Amelia C with Baxter
Indoor Exhibit Cup: Maikara with his 'Milk Bottle Seed Planter'
Class Placement for 2024:
Last week we made two appointments to replace Bridgit and Shane for next year. The first appointment was a real easy one as we offered the job to Hannah Evans. She is already an invaluable member of our team since starting here in Term 2 and we are delighted to keep her as a permanent member. (Hannah was only on a fixed term position covering Bridgit) The second appointment we made was Anna Kane. She comes to us from Takaro School where she brings strengths in Structured Literacy, Neurodiversity and Te Reo Māori, which are all areas we are looking to 'level up' at Turitea School next year. We look forward to welcoming Anna to our team, we know she will be a huge asset!
In 2024, our class makeup and their teachers will look like this:
Year 4-6 with Karen in Kahikatea 
Year 4-6 with Cameron in Tōtara 
Year 3/4 with Trish in Mataī
Year 2/3 with Anneliese in Pōhutukawa
Year 1/2 with Anna in Rātā
Year 0/1 with Meagan/Hannah in Rimu
As I mentioned last week, we value your input in placing children in their classes for next year. This is a crucial role and we endeavour to get it right, but have to consider many variables. If you would like to give us your thoughts about this process, please provide them here, but remember we can only do our best with this, this does not guarantee your choice.
EPro8 Challenge:
Today we sent two teams to the EPro8 Challenge in Levin today. EPro8 is an inter-school science and engineering competition. Our Year 5 team of Ada, Kerian, Natalie and Ryleigh came first with 280 points and now go on to the grand final next Friday at Whakarongo School. Check out their winning design here. Our Year 6 team of Hoani, Juliette, Mason and Te Aranga came 5th with 160 points. Tau Ke! (Awesome) Huge thanks to Tim and Francis for transporting the team and supporting them.
Parent Meetings:
We had a great turnout for our Health and Physical Education Evening on Wednesday. Cameron and Karen shared the following slide to our parents which you might like to look at if you were unable to make it. Our next parent evening is on Wednesday 22nd November from 6 – 7pm about our 2024 Year 5/6 Camp.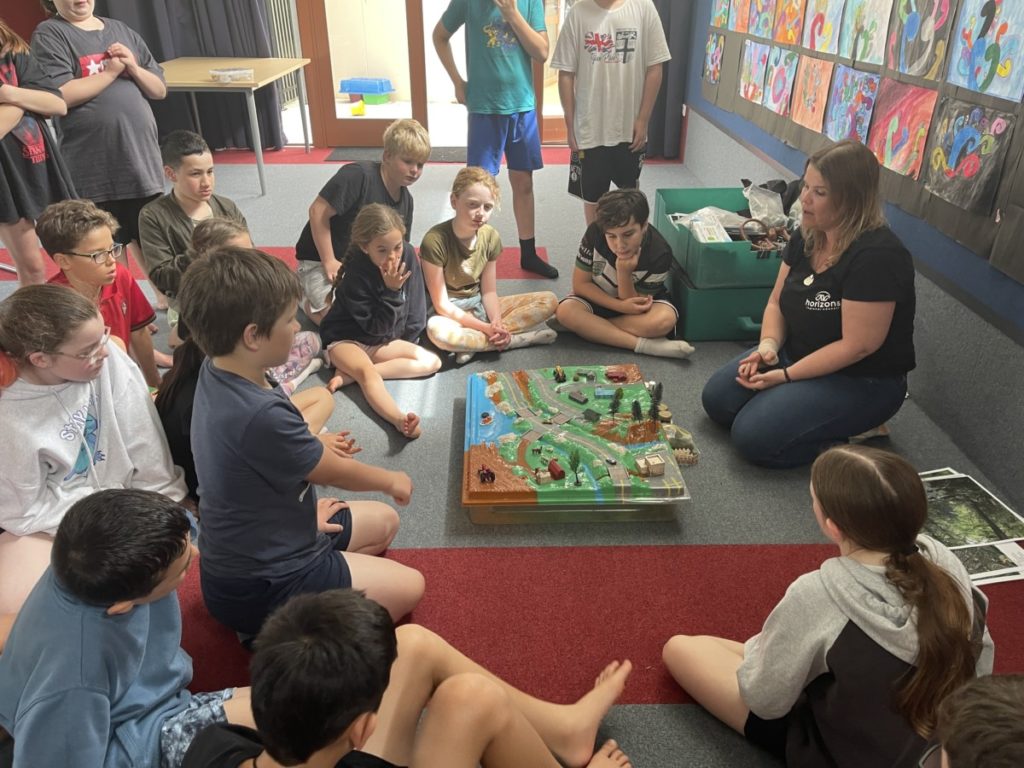 Kahikatea/Tōtara Te Manawa Trip:
Next week on Tuesday and Thursday, our tuakana (seniors) are heading to Te Manawa for a Harakeke (Flax) project to learn about its importance in our rohe (region) over 300 years ago. They will learn to transform harakeke from rau (leaf) to whiri (plait). We are lucky to have a lot of harakeke at the top of our field, which they might be able to come back and teach us all what they have learnt. As always, they need parent support, so please let them know if you can help out. Yesterday we had Christina from Horizons Council work with both classes on an Enviroscapes Session which is pictured above. It is awesome to see lots of 'real life' learning happening in those classrooms.
Giant Pumpkin Growing Competition:
We have heard that some people's pumpkin's have sprouted already! Have you planted yours yet? We have spares if you need them. Thanks again to Nathan Mooney from Property Brokers for supporting this. If you need a link to the competition details or the Facebook Page, we have you covered.
From the Community:
–Yeah! Girls Cricket: We have 14 girls signed up for this programme which happens every Wednesday lunchtime. Coach Sarah also runs the MCA Girls Club and they need 4 more players for their Year 4-6 Incrediball Grade which is played with a soft cricket ball and is aimed at those who are new to cricket. They play on a Saturday morning from 8-10am and have optional practices on Friday from 3:30 – 4:30pm. If your child is enjoying the lunchtime sessions and is interested in taking this further then email her.
–Memorial Park Pools: The Splash Pad and Paddling Pools at Memorial Park are now open. This gorgeous weather we've been having recently might make that a top spot to head this weekend. Our school pool is still in hibernation mode currently, but thanks to our PTA, we can buy the new chlorine pump needed to open it early next month. Pool keys for the summer will be available to hire once this happens. We only have 40 for hire, so if you want to hire one, keep an eye out on Hero for when these become available.
–Taiopenga ā-Rēhi (Palmy Play Festival): Whether you're young, or young at heart, come and celebrate cultural diversity in our community through play next Saturday 11th November from 2.30pm – 4pm in Te Marae o Hine (The Square).
–Palmy Brick Show: We have a couple of keen Turitea parents who are part of the organising committee for this 'bricktastic' annual event. It is on the weekend of 25th/26th November at the Fly Palmy Arena with more information here. 
Just another friendly reminder to have our Staff Only Day on your calendar. School will be CLOSED for instruction on Friday 17th November (a fortnight from today) as our entire staff will be getting trained in UBRS (Understanding Behaviour and Responding Safely). 
Ngā manaakitanga,
Troy
principal@turitea.school.nz