Ngā mihi mahana kia koutou,
Thank you to those who have given us feedback about our recent Lamb, Calf and Pet Day. As expected, we received a wide range from those who loved the evening event to those who preferred the Saturday morning. It is hard to please everyone, but we all we aim to do is our best. If you haven't given feedback and would still like to, you can do so here until next week. This week, we welcomed Philip to Rimu with Meagan and Hannah. He is Ivor's younger brother and it is lovely to have the last member of the Baldie whānau join Turitea. Nau mai, haere mai Philip.
Thank you to those of you who collect the Yummy Fruit stickers. Julie sent them all in for us and we have been given $358 worth of sports gear for our efforts. We appreciate you collecting these for us and we will continue to collect them for next year's tally. Next week we have our two Table Tennis teams competing in the Manawatū Table Tennis Championships and we have four teams going to the Cluster Touch tournament at Monrad Park on Thursday, so as usual in Term 4, there is always something going on…

Class Placement for 2024:
Today we had Anna relieving in our school, so it was nice for her to meet a lot of the faces that she will have in her class next year. We hope Anna can do some more work for us in the future to ensure the tamariki in her class will form those relationships ready for 2024 which looks like this:
Year 4-6 with Karen in Kahikatea
Year 4-6 with Cameron in Tōtara
Year 3/4 with Trish in Mataī
Year 2/3 with Anneliese in Pōhutukawa
Year 1/2 with Anna in Rātā
Year 0/1 with Meagan/Hannah in Rimu
As I mentioned last week, we value your input in placing children in their classes for next year. This is a crucial role and we endeavour to get it right, but have to consider many variables. If you would like to give us your thoughts about this process, please provide them here, but remember we can only do our best with this, this does not guarantee your choice. This form will be open until next Thursday, so that we can finalise this process.
EPro8 Challenge:
Today we sent our Year 5 team of Ada, Kerian, Natalie and Ryleigh to the grand final of EPro8 at Whakarongo School. They placed 9th and were faced with a really tricky challenge to overcome. Some good learning came out of it though. Huge thanks to Tim and Janelle for taking and supporting them
Kahikatea/Tōtara Te Manawa Trip:
This week our tuakana (seniors) went to Te Manawa for a Harakeke (Flax) project to learn about its importance in our rohe (region) over 300 years ago. They had a great time as pictured above and if you ever need to know how to plait or weave harakeke, we have a few experts in our school now. Thanks to the parents who came and learnt too.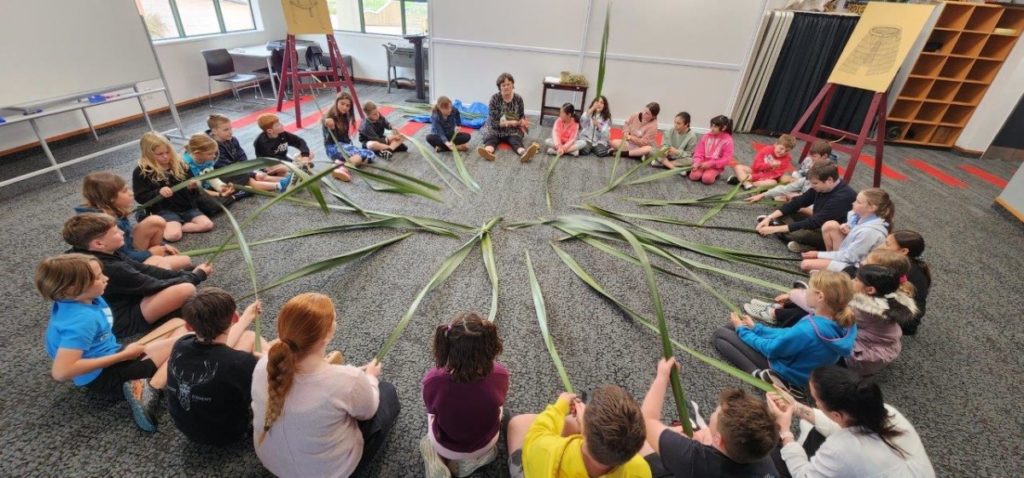 Calendar Art:
Today your child should have brought home a calendar art order form. You should be able to see their masterpiece on Seesaw too, so you know what you are buying. Calendars are $12, Cards, Mousepads and Sketch Pads are $15 and Diaries are $17. Please bring your completed order forms into to the office and deposit the money in the PTA Bank Account 03-0726-0572366-01 (Not the School Bank Account) with Calendar Art as the Reference and Childs Name/Class as the Code.
From the Community:
-Taiopenga ā-Rēhi (Palmy Play Festival): Whether you're young, or young at heart, come and celebrate cultural diversity in our community through play tomorrow from 2.30pm – 4pm in Te Marae o Hine (The Square).
-Diwali Mela: Go along and learn about the Hindu festival Diwali, which is on next Saturday 18th November in Te Marae o Hine (The Square) and runs from 5-10.30pm. It is a family friendly festival of lights and unity.
-Family Fun Day: Next Sunday 19th November there is a Family Fun Day next to the paddling pool at the Esplanade from 10am-2pm. Check out the poster here.
-Palmy Brick Show: We have a couple of keen Turitea parents who are part of the organising committee for this 'bricktastic' annual event. It is on the weekend of 25th/26th November at the Fly Palmy Arena with more information here.
-Nathan Mikaere Wallis: He returns to Palmerston North for his Engage Your Brain talk next Thursday 16th November from 7pm – 8:30pm at Riverdale School. His talk focuses on the social/emotional aspects of your brain development, how feeling impacts our thinking. More info/tickets available on Eventfinda.
This is your final friendly reminder to have our Staff Only Day on your calendar. School will be CLOSED for instruction Next Friday 17th November as our entire staff will be getting trained in UBRS (Understanding Behaviour and Responding Safely).
We will have our assembly on Thursday next week instead of the usual Friday for that reason, so we would love to see you at 2.15pm. Nina and Juliette are having their turn at hosting.
Ngā manaakitanga,
Troy
principal@turitea.school.nz