Welcome To Turitea School
Ko te poipoi, ko te atawhai, ko te manaaki.
At Turitea School our students will be supported, encouraged and challenged to achieve their potential through a balanced curriculum that develops their knowledge and skills to become confident, creative and life-long learners.
Our students will have a passion for life, immersed and strengthened by our school values and community.
Current and prospective whānau are warmly encouraged to contact the school at any time.

We have a great school library for all readers, and it is augmented by regular visits from the Palmerston North Mobile Library bus.

Turitea School has a teaching staff who are constantly learning, and strive to grow enquiring minds who can lead with confidence.
Combining the benefits of a small, rural school with the latest research in educating children to create life-long learners.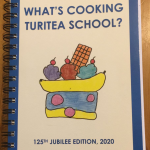 The Recipe Book, What's Cooking, Turitea School? produced last year to celebrate our 125th year, is still for sale through the school office. Packed full of tried-and-true recipes, it's a bargain at $15.00. They make great gifts too.
Turitea School has teachers who bring enthusiasm, dedication, and inspiration to their classrooms. They strive to kindle a desire for life-long learning, growing confidence, leadership, and curiosity in all students.