Kia ora e te whānau,
Hoping this finds you all doing well as we head past the halfway point of the term.
Staffing for 2023:
Next year, Karen Walker is rejoining the team after taking leave this year. We look forward to her being back, in fact she is in for Trish this morning, so everyone will enjoy that. Bridgit James is taking refreshment leave for 2023 and she will be sorely missed, but she has assured us that it is just leave! We will finalise her replacement for next year in the coming weeks and let you know the outcome.
Changes for 2023:
Next year we are moving our library from its current location to Kauri next year. Kauri has traditionally been the home for our Year 6's for many years. However, Kauri is such a special place, being that it is where 'Tiritea School' began back in 1895. You may have heard that next year, all schools across the motu (country) will implement our Aotearoa New Zealand Histories (ANZH) curriculum. I feel lucky that we have an alive piece of our own school history to teach our kids about, through and in this building. This way all kids at Turitea School can experience this special space, not having to wait until they are Year 6 to do so.
Class Placement for 2023:
We have a smaller group of Year 6's than our other year group cohorts in 2023. So in smaller schools, you have to be creative with your numbers and classroom makeup. Our aim is to spread our next year's leaders across more than just one space, so we will have two Year 4-6 classes, instead of the Year 4/5 and Year 5/6 class that we've traditionally had. Our numbers are looking like we will have five Year 4's in each of those two classes and the remainder will be in a composite Year 3/4 class. The makeup of the rest of the school will look similar to this year, with a Year 2/3, Year 1/2, Year 1 and Year 0 classes making up our school. As always, we value your thoughts/opinions, so if you would like to give us your say about your child's placement for 2023, please fill out this form. We can only do our best with this, it does not guarantee your choice.
Cluster Touch Next Thursday:
Thank you to the parents who are happy to transport and coach our 40 kids who will compete in the Cluster Touch Tournament next week. Chris and Anneliese will be down there supporting the teams. Here's hoping for some fine weather and lots of tries! Shout out to the team at Opiki who have organised this day!
Anneliese's Graduation:
You might remember that Anneliese's graduation ceremony was postponed from the start of the year because of Covid restrictions. This is on next Friday and we know you will join us in wishing her well for this important celebration. Hopefully she comes to see us in her Graduation attire to show her kids beforehand.
Fencing Work:
Our fencing down the treeline side of the field is almost complete and looks great! They will move across to the other side of the field next week to install the wooden panels on the inside.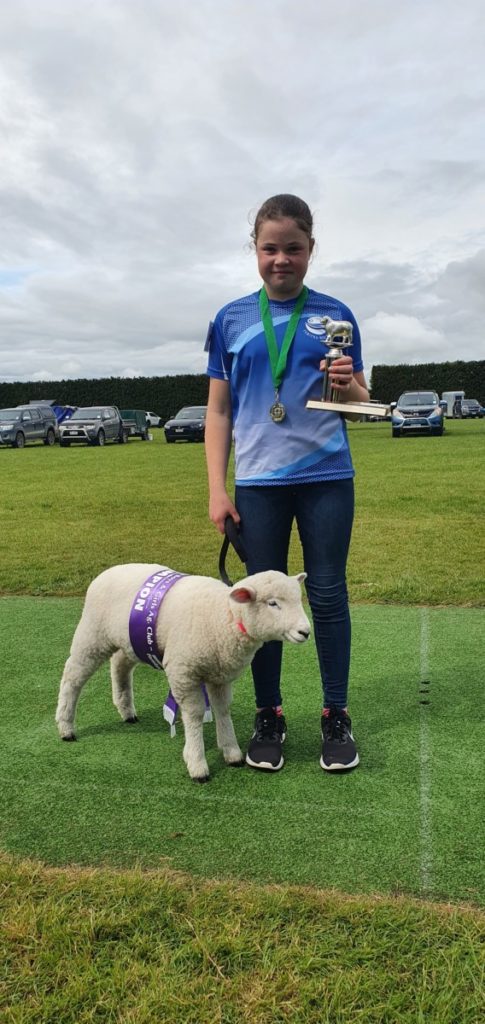 Lamb and Calf Championship Day:
Well done to Izzy, Elliot, Charlie and Myah who scored a lot of placings at Championship Day on Saturday 12th November. A successful day for them and their animals. See the picture above of Myah with her lamb Lily and her silverware.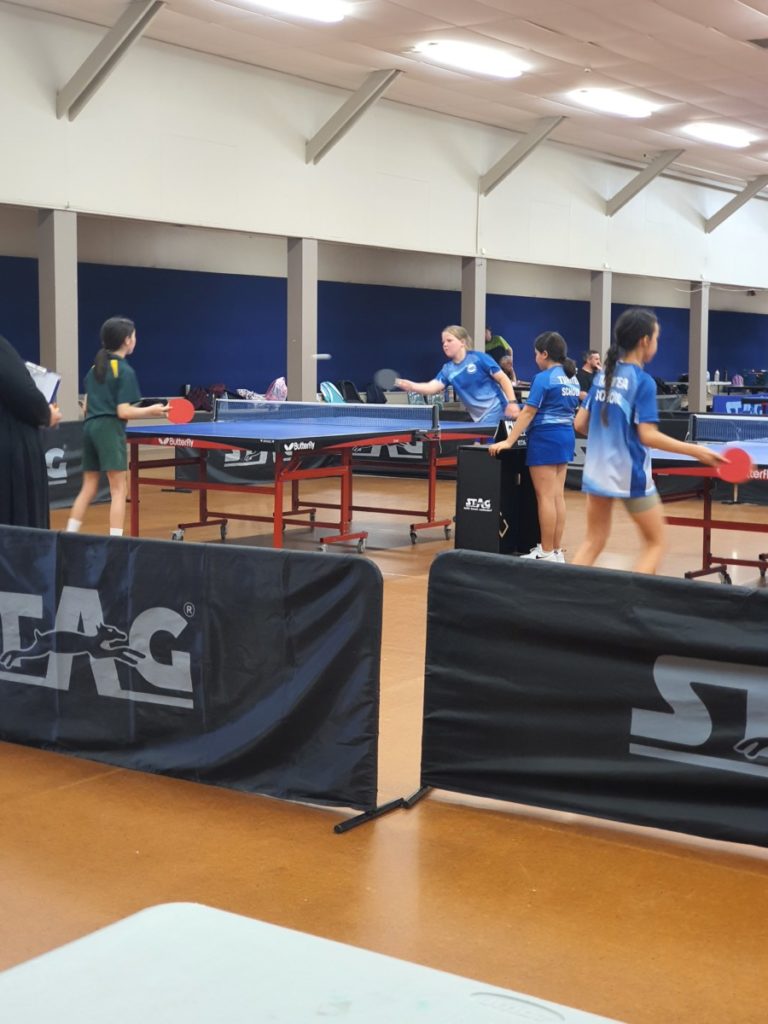 Table Tennis Tournament:
Our Girls team came 3rd overall and we came 6th overall as a school at the event on Tuesday. Huge thanks to Amy and Glen for looking after the teams and the other parents who came and cheered the team on. Check out the pic of them in action above.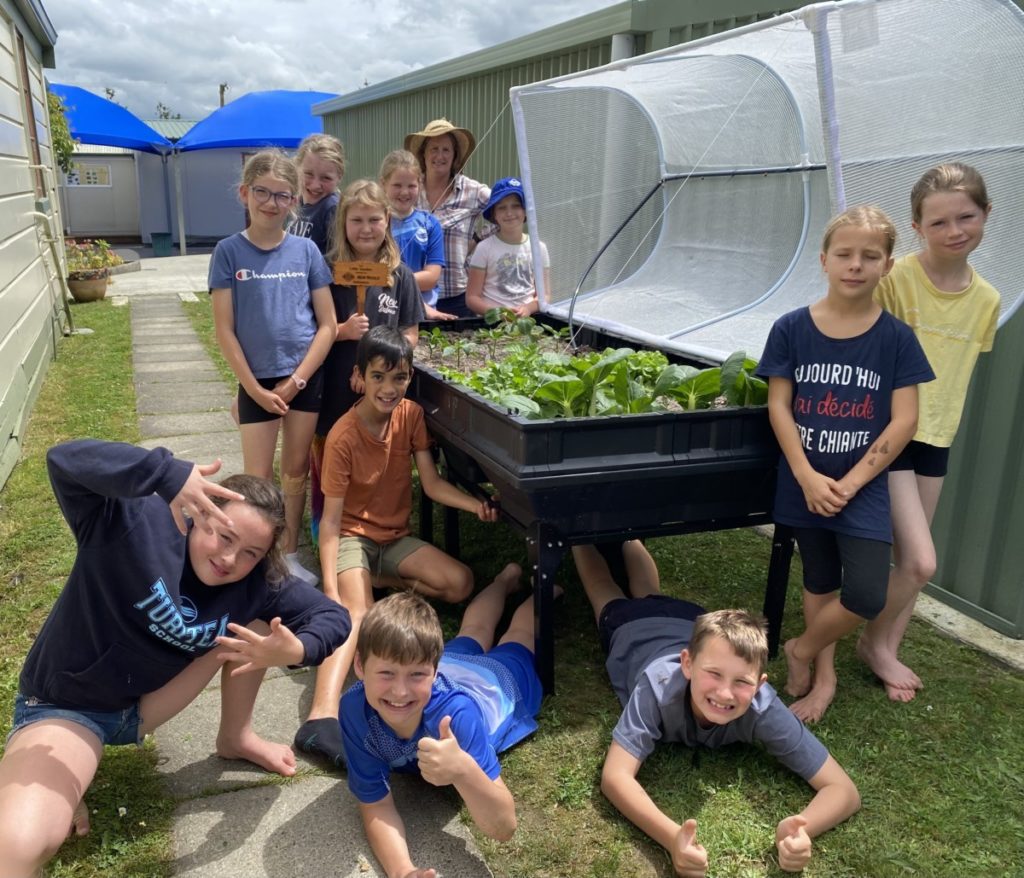 Aokautere New World:
We are extremely grateful to Aokautere New World for their generous donations of the VegePod and many Little Gardens seeds. You may have seen the post on their Facebook page saying how they love supporting the local community! I've bumped into a number of parents up there so I know you all choose to support local as well. See the pic above of Meryl's keen gardeners who have helped her make use of our VegePod.
Sports @ Turitea:
-Touch Draw – Friday 18th November (tonight – hoping the weather holds up)
U6's Turitea Titans vs. Cloverlea @ 4pm on Field 10B, then vs. College Street @ 4.30pm on 16B.
U8's Turitea Tigers vs. Cloverlea @ 4pm on Field 8B, then vs. St. James @ 4.30pm on 8A.
U10's Turitea Thunder vs. Kairanga @ 5pm on Field 15A, then vs. Aumāia @ 5.30pm on 14A.
U12's Turitea Terriers vs. Hokowhitu @ 5pm on Field 9, then vs. Cloverlea @ 5.30pm on 8.
-Year 5/6 Hockey Draw – Wednesday 23rd November (next week)
Turitea Chasers vs. Winchester @ 4pm on MG 1C. Turitea Chargers vs. St. Mary's @ 4.45pm on Haval 2A.
-Year 4-6 Volleyball Draw – Thursday 24th November (next week)
Turitea Blockers vs. Cornerstone @ 3.50pm on Court 5.
Sports Uniforms:
As our seasons are coming to close in the next few weeks, we are starting to prepare for this by getting all Turitea Sports uniforms back in. Coaches, can you please collect these after your final game and return them and the gear bag and sports jacket to the office, so we can do a stock count. If you have any sports gear in your possession that isn't being used, please can you return it to the office.
Public Health News:
Please find their newsletter attached if you are interested in reading it.
Have a fantastic weekend.
Ngā Manaakitanga,
Troy