Kia ora e te whānau,
For those who came last Friday to the Whānau BBQ, we hope you enjoyed yourself. Massive thanks to all the members of the PTA whose organisation skills made the evening run smoothly and was really special. It was great to see so many different people connecting together showing that we are more than just a school, we are a community! A true showcase of Whanaungatanga which is about forming positive relationships.
Twyford School Support:
Thanks for your support of our Black and White Day on Wednesday. Our coin trail generated over $300 which we will be pooling with the money we will collect from the Swimathon. (see what I did there – LOL) This is an event that came from student voice and those in our three senior classes (Kahikatea, Tōtara and Mataī) will participate in. Twyford School is a small kura just outside of Hastings in a semi rural environment, much similar to us here at Turitea. Unfortunately they were badly affected by Cyclone Gabrielle and we would like to send that money to help them start to get their school back to normal.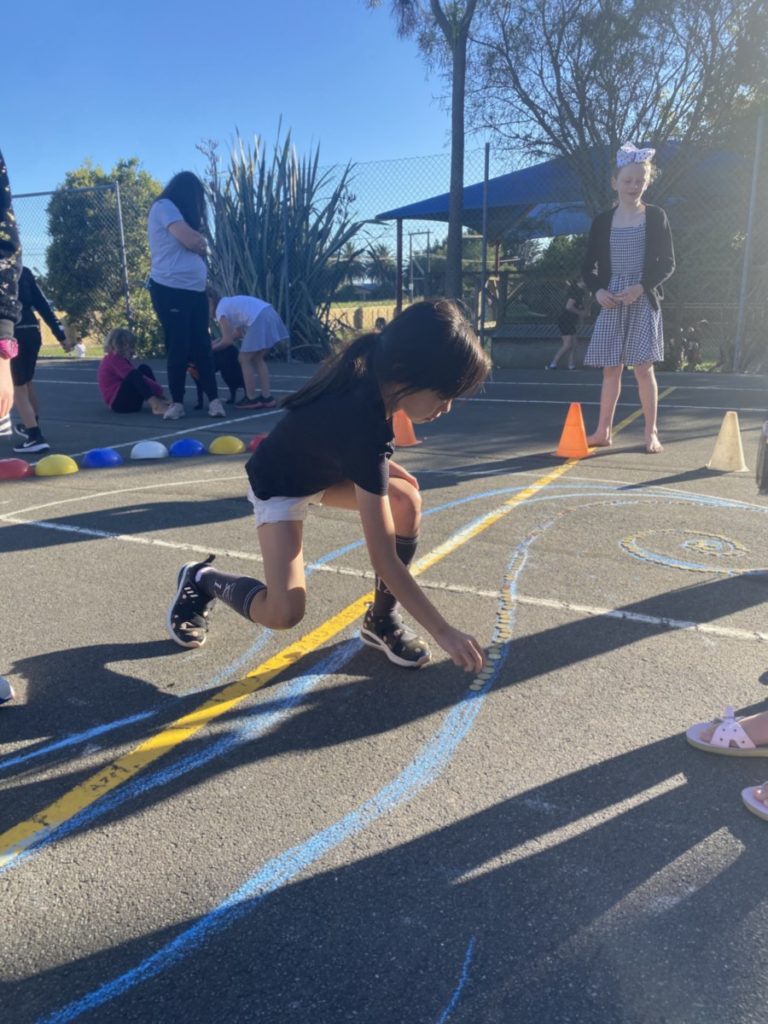 Senior Cluster Athletics:
Cameron took 39 Year 4-6 students to compete at our annual Cluster Athletics event at Massey Track yesterday. Luckily the weather was ideal for athletics and our kids did us proud as usual with their team spirit and behaviour. Huge thanks to all the parents who transported and supervised our students. Special mention to the following athletes who were the overall top performers for their year levels. Finn was 3rd = in Year 4 Boys, Natalie was 1st in Year 5 Girls, Ada was 3rd in Year 5 Girls, Angus was 3rd in Year 5 Boys, Ruby was 2nd = in Year 6 Girls and Maikara and Iti were 3rd = in Year 6 Boys. The main event of the day, the school relay was a nailbiter with our team finishing a hard fought second place overall. Check out the action above. Junior Cluster Athletics is next Thursday 9th March at Linton Camp School.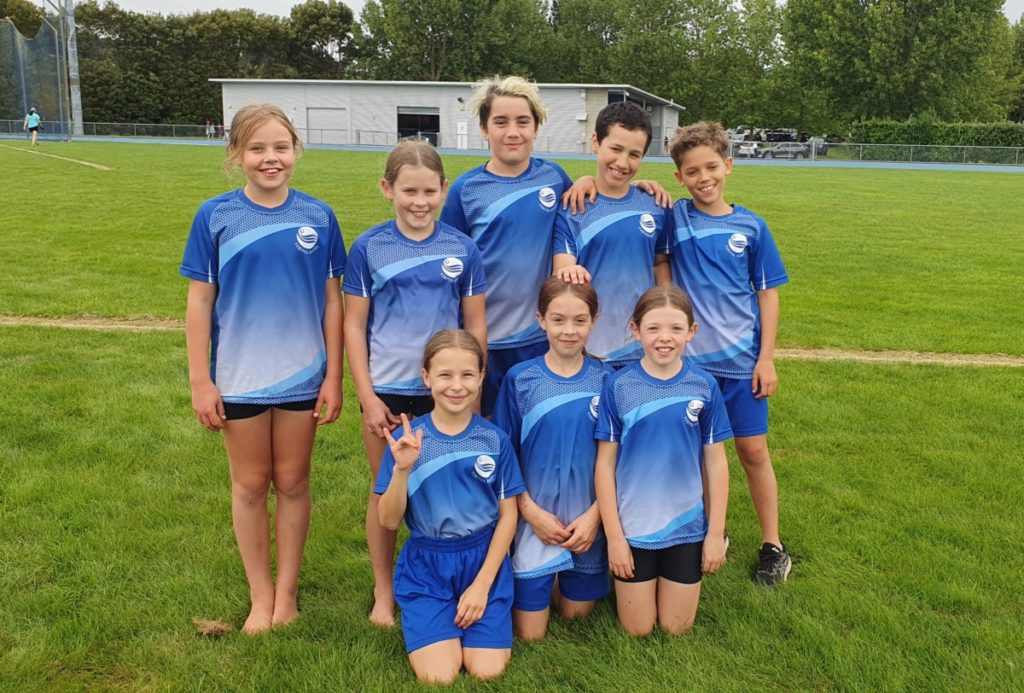 Local Business Sponsors:
We are lucky to have many Palmy businesses sponsoring our school as shown in the picture below. Please show your support to them by buying local and using their services. Whakawhetai koe! (Thanks!)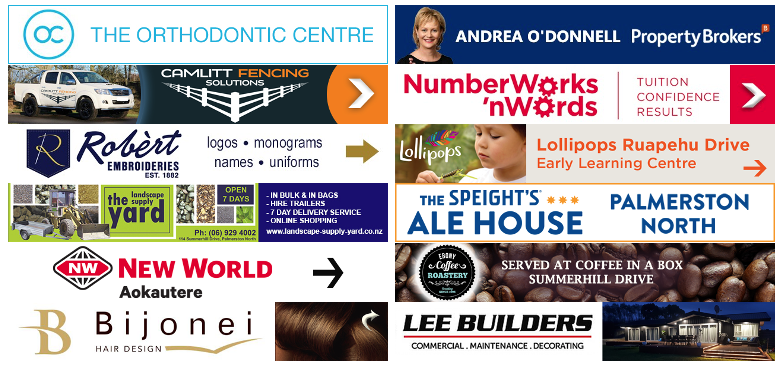 Te Whānau Māori Hui:
​​Nau mai haere mai e te whānau. The Turitea School Whānau Māori Group are holding their first hui for the year on Thursday 30th March in Tāne Mahuta. This is an opportunity to meet up with staff and whānau members who have an interest in and passion for the growth, enhancement and enrichment of Te Ao Māori within our kura. All whānau are welcome, whether you whakapapa Māori or not. Shared kai from 5:30pm (please bring a plate of food), with the hui commencing just after 6pm.
Monster Garage Sale:
Lots of raffle books coming back in, thanks so much for selling these. Can we please have these back into the office by Wednesday 15th March sold or unsold. In true Turitea fashion, we will have the Monster Dress Up the week before the event on Friday 10th March. For new whānau, this is a day where you dress up in anything that begins with the letters in the word 'Monster.' We also ask if each family can donate one bottle, one packet and one can for the grocery hamper prize. If you can bring those and pop them in the baskets on the Friday morning. The MGS helper board is in the office, if you can please put your name down to help out with something either on or before the day, that would be much appreciated.
Year 5/6 Inter School Triathlon:
The Inter School Triathlon is on Wednesday 15th March from 12.30pm – 2.30pm at the Freyberg Pool and Skoglund Park. It costs $3 per person and you will need to arrange transport for your child and their bike to and from the venue. The distance is a 1km Run, a 3km Bike and a 75m Swim. If your child is interested and is capable of achieving this, you can sign them up here.
Weetbix Tryathlon:
We had five free entries to give away to the WBT for first time attendees who could show me proof that they demonstrate and use our four school uara (values) at home as well. I had a lot of entries and our lucky recipients were Kaiya, Lincoln, Joseph, Jack and Elisa pictured below. Looking forward to this event on Tuesday 23rd March. You can still register here if your child is keen. Am hoping we have lots of Turitea Kids attend.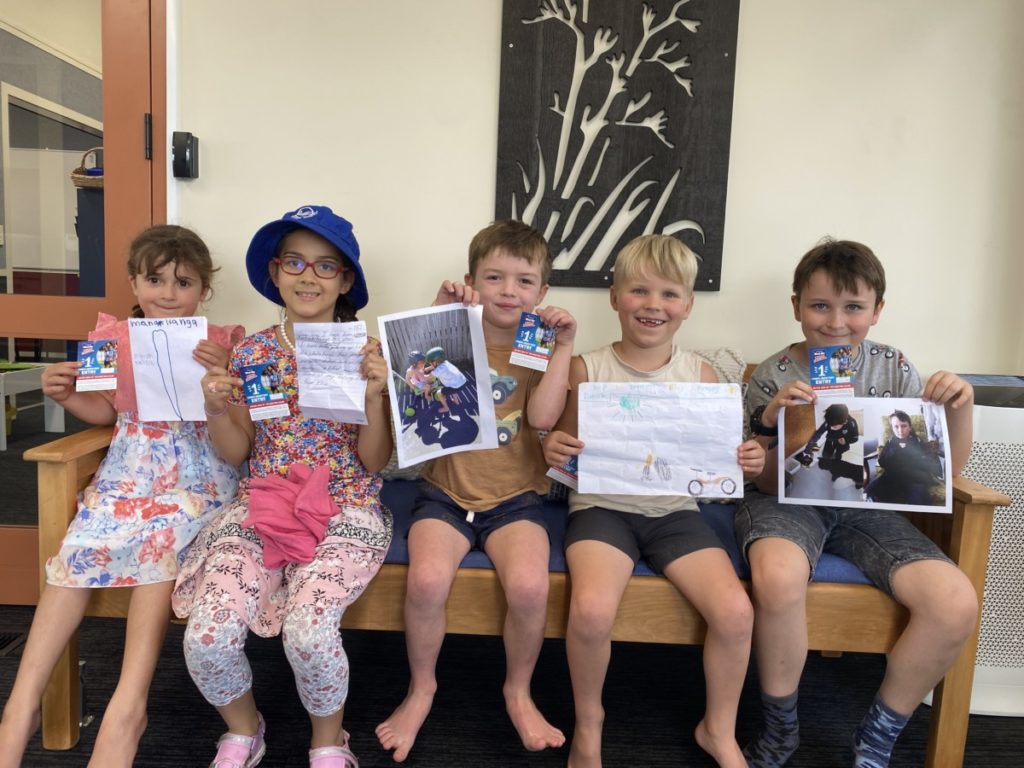 Asthma Study:
Mischa Walton, a researcher at the Medical Research Institute of New Zealand based in Wellington Hospital would like your support if you have a child that suffers from asthma. They are wanting participants in their study. There is more information on the poster here and watch their video or register here.
Coding:
CodingNZ are running online coding lessons for kids aged 9+ which are designed to expand your child's horizons. Your child will learn to not only passively consume technology, but to create technology so that they can be an active part of the digital era. More information about their programme can be found here.
Kia pai tō wiki mutunga, Have a safe and happy weekend.
Troy